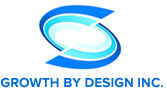 WELCOME TO GROWTH BY DESIGN INC.
The unvarnished truth out there is that not only does your marketing not work to its best level - it probably isn't marketing at all. Most thinly disguised objectives are labeled as 'marketing', but at best represent where you would like your business to be at some future time.

Growth is deliberate and intentional - and unfortunately it is plenty of hard work. The vast majority of companies we consult with usually have a decent handle on their product or services (some simply do not - sorry!). They are not, however, great communicators hence their advertising and marketing investment is usually another term for monies wasted - monies NOT tracked - and plenty of mixed messages between the staff, collateral material, and the end product.